KC Zine Con is…
(more than) the Midwest's DIY Publishing fest!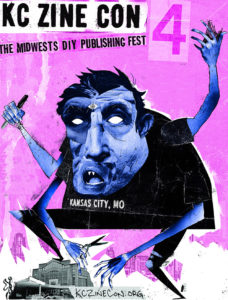 We're a collective of zinesters, writers, artists, activists, and zine-enthusiasts working to build a DIY community in Kansas City.
Zines are self-published DIY publications, typically made using a copy machine. Founded in 2014 by the Kansas City Zine Collective, Kansas City Zine Con is a one-day event held annually in Midtown Kansas City, Missouri, where participants exhibit, sell, and trade their independently published zines, comix, books, newspapers, anthologies, tracts, pamphlets, and DIY radical readables of many forms.
We acknowledge that our festival inhabits land stolen from the Kansa, Osage, and Shawnee Nations — the traditional guardians of the land on which we live — and that our nation was built on a legacy of chattel slavery — the brutal enslavement of Black people, whose exploited labor created this nation's wealth. We feel it is important to assert that Black Lives Matter.
At KC Zine Con, anyone can come and wander the tables, chat with the incredible artists, learn at workshops and panels, make a whole host of new friends, and get tons of zines! In addition to the annual festival, KCZC facilitates writing, collage, and zine-making workshops in the community and has partnered with organizations such as the Kansas City Public Library, Girl Scouts, Imagine That!, and the Johnson County Public Library. As an entirely volunteer-run organization, KCZC exists to build and foster a DIY community of zine-makers and uplift underrepresented voices in our community. The majority of our tablers and organizers are LGBTQIA or queer, and we are driven by a vision of creating KCZC as a safer space for our community and people.
"The vibe was just right: more than a thousand friendly weirdos gathered to peruse chapbooks, comics, tote bags, screen prints, T-shirts, buttons, pottery, poetry collections, and old-school zines made of photocopied and stapled pages. To attend Zine Con is to feel a part of a beautiful artistic community beginning to break through." – The Pitch "Best of Kansas City" 2017

---
Mission + Vision
Mission: KC Zine Con is a volunteer-run collective creating safer spaces in Kansas City for people to connect with the DIY ethos and values inherent in zine-making. We empower individuals as auteurs in the self-published medium through the prioritization of underrepresented voices, and the facilitation and planning of an annual zine fest, workshops, and readings.
Vision: A diverse community of zine-makers and -readers will be sustained through collaboration, DIY ethics and creative opportunities, while creating a new standard for safer spaces in KC.
---
Meet the Organizers
Abigail — Abigail first got involved at Zine Con 4 last year when she requested a workshop about making zines with kids. Little did she know she'd end up co-leading the workshop and eventually join the ranks as an organizer! She led zine workshops for kids as a Program Specialist at Wonderscope Children's Museum of Kansas City, and she's excited about continuing to introduce zines to kids of all ages. She currently works at Girl Scouts, and she's a member of the Kansas City Civic Orchestra and their educational outreach committee.
Alison
Amanda
Arin — (he/him) Arin is a young artist who's just happy to be here! He's grateful for the opportunity to benefit the KC artist community and provide a space for people to express themselves through helping to plan KC Zine Con.
Ash
Casey — (he/him) I am a collage-based illustrator living not-too-far from Kansas City, MO. My work is primarily focused on the psychic world- dreams, nightmares, demons, myths… all tinted with inspiration from the premium shlock of the '80s and '90s movies I was raised on. breakingbabb.com • instagram: breaking_babb • twitter: breakingbabb
Dayna — (they/them or she/her) Dayna is a zinester, web developer, writer and occasional gardener from Kansas City, MO. They enjoy bikes, black coffee, and exploring cities. When they are not publishing zines or planning the festival, they facilitate zine-making workshops for fine arts nonprofits, gallery spaces and private parties, with an emphasis on helping students craft personal narratives. Visit them online at catmothcrow.com.
Kaley — (she/her) Kaley is a zinester & software engineer living in Kansas City, MO. Over the years, she evolved from a Zine Con attendee in year 3 to a tabler in year 4, and now is thrilled to be helping out as an organizer! Outside of her work with the KC zine community, she plays the flute in the Mid-America Freedom Band and teaches computer science to local high school students.
Karla — I made zines with @thebonecollective back before KC Zine Con first started. We participated in a few Midwest cons and now I'm happy to be learning the other side of things as an organizer.
Marylin — (she/her) Marylin E Hinojosa • Artist/Cat mom • Bi-cultural Mexican-American Womxn of Color from Dodge City KS. Maker of art and community in creative and inclusive ways.
Megan
Nikki — (she/her) Nikki is from Kansas City, MO. She has always had a love for the arts & the DIY culture. Once she discovered the World of Zines, that was IT! She loves going to festivals, networking & getting to meet other Zinesters!
Want to get involved? We're always looking for more Volunteer Organizers! Being an Organizer is a big commitment: we meet 2 – 3 times a month to plan the fest, and we all do a little bit of everything: from planning the table layouts, to graphic design, to social media marketing; from contacting vendors and out-of-state tablers, to training day-of volunteers, performing secretarial work, or schlepping around boxes of zine-making supplies… it's a ton of hard, fun, gratifying work that's all worth it come fest day. Still interested? Drop us a line!
---
Thanks to our sponsors:
KC Zine Con is made possible by the generosity of some great sponsors. This year's fest is sponsored by: Moosader, Neither-Nor Zine Distro, Oddities Prints, Portland Button Works. Interested in becoming a sponsor? Click here to learn more about Sponsorship opportunities.