KCZC #6 – A Virtual Zinefest
A message to our zine community,
Due to safety precautions surrounding COVID-19, your KC Zine Con organizers have decided to shift our planning focus to hosting a virtual Zine Con 6 event in 2020!  This is keeping to our commitment to being a Safer Space. You can also expect us to update this policy to be better-suited for our virtual Zine Con 6 when the time comes.
We are exploring what our virtual Zine Con will look like, but we wanted to let you know ASAP not to plan for an in-person, physical (possibly high-risk) conference this year. It will be difficult not to see each other, but we do plan to hold in-person events when it's safe. Keep your eyes peeled for more info.
There is some good news! We are excited to announce our first virtual Zine Club this coming Wednesday, April 15 hosted by one of our new Zine Con organizers, Kaley! Check our calendar here to see when next we'll be creating together in the month of April (and beyond!)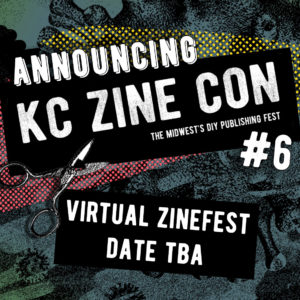 Zine Con is our favorite day of the year, and we know this is a huge loss for so many of you. This decision did not come lightly, and your KCZC Organizers (some veteran, some new!) want to be transparent about our decision and reasoning:
If we were to plan a traditional, in-person conference, there's a chance it would get cancelled due to the need for social distancing. That would stink! If we pivot to hosting a virtual conference, we know it'll happen no matter what.
We can still gather to make zines virtually! Check on our website or Facebook for our calendar of virtual zine workshops coming soon to a computer screen near you. Our workshops will be recorded and available on our Resources page to watch later.
In the meantime, we can focus on finding a physical location for an in-person KC Zine Con 7 in 2021! If you have any tips on a great, affordable location, please e-mail us at kczinecon@gmail.com!
We want to be responsible, and we have to think ahead to future zine cons. We don't want to spend the little resources we have—and the hard work of our volunteer organizers—on a zine fest that might not happen. We know we can spend good, quality time on a virtual Zine Con 6 that will definitely happen, and it will hopefully be a bright spot to look forward to in your future.
It'll be so good to see each other (and know that we're not putting anyone at risk!) when it's safe to meet up again! If you would like to be involved in the planning of KCZC 6—our first (and hopefully only) completely virtual Zine Conference—e-mail us at kczinecon@gmail.com, or share your comments and ideas here. Any technology suggestions are greatly appreciated as well!
Take care!
– the KCZC Organizers